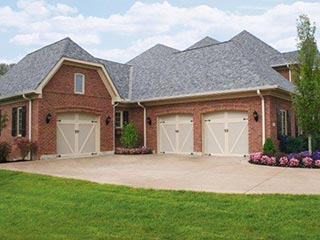 There's a whole slew of things that can go wrong with an automatic garage door. As much as this type of system can be beneficial, it's not impervious to damage. When you find yourself dealing with an unexpected problem, ours is the team to call. We have the experience and the professional training needed to repair any problem this sort of mechanism may suffer from, and our highly skilled technicians are utterly committed to ensuring every customer's complete satisfaction.
Same Day Repair Services
Nobody wants to wait around for help to arrive, especially when your garage door is keeping you from getting your car out of or into your garage. You may be late for work, or for some appointment. Whatever the case may be, when the situation calls for it, our team will respond as quickly as possible. Your door will be back to its normal operation before you know it.
Spring Repair and Adjustment
We can address any type of problem that may affect any of the different parts of your garage door. Some can be more likely to wear out than others, and when it comes to the springs, there are few parts more crucial and more potentially dangerous. Our experts will check to make sure their tension is adjusted correctly by testing the balance of the door. If the units have become too damaged to function properly and safely, we'll replace them with new ones, making sure to adhere to the strictest safety standards while doing so.
Let Us Know What You Need
Are you looking for experts who can carry out a complete garage door replacement for you? Need professionals to troubleshoot your opener and fix whatever problem is causing it to malfunction? Whatever you need, you can count on our team to accomplish it. As one of California's leading service teams, our experts at Garage Door Repair Hercules have helped many local homeowners with various issues, and will continue to strive for excellence every single day.
Need More Information? Call Us Today!

Weekend Appointments
High Quality Products

Satisfaction Guaranteed

Highly Skilled Technicians