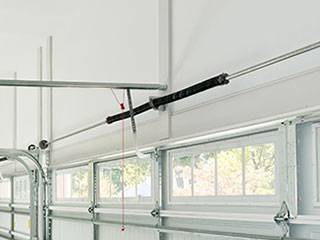 A garage door system is comprised of a variety of components. While the panels make up the door and the opener enables the automation, it is down to the springs to do the heavy lifting.
The Power Behind The Panels
Garage door springs are the muscles behind the mechanism. Through either torsion or extension types, they support the full weight of the panels and provide the counterbalance required to easily and effectively lift them. By their very nature, they are subject to a great deal of stress and tension and can be very dangerous. For this reason, only a technician with experience and skill should carry out adjustments, installations and replacements.
The Different Kinds Of Spring
Currently, there are two types of garage door spring. The first more modern type, the torsion, uses a system of torque to operate. Its winding and unwinding action generates tension, allowing the door to raise and lower. With greater flexibility and durability than their extension counterparts, torsion springs are available as oil tempered or galvanized. Extension springs on the other hand come in a pair and are attached to either side of the door. They operate by stretching and contracting – unfortunately this means they are more likely to whip around dangerously when broken. To prevent this from happening they are often secured with safety cables.
Careful Spring Replacement & Adjustment
Whether you already have a broken spring, are in need or replacement or simply need the tension of your springs adjusted to restore balance, our expert team is happy to help. Our skilled and friendly technicians at Garage Door Repair Hercules are available to assist you with all types of issue relating to these crucial but potentially hazardous components. Call a member of our team today!
Need more? We also provide:

Opener Sensor Replacement

Oil Tempered Torsion Springs

Roll Up Garage Door Services

Garage Door Safety Inspections