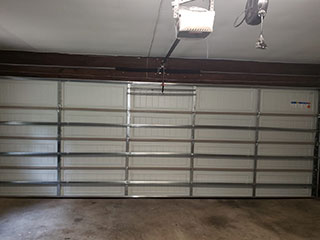 When your garage door opener starts to wear out it can cause a huge number of different problems. A slow, noisy and unreliable door is at best a nuisance and at worst a very dangerous accident waiting to happen. Our technicians can repair whatever's wrong with your opener, or provide you with a replacement unit from one of the top industry manufacturers.
When Things Go Wrong
The opener is the most complex part in your garage door mechanism. The many mechanical and electrical components it houses can each develop issues of their own. This makes opener repair a complicated task, but our team has many years of experience finding and fixing faults in these devices, and you can trust us to quickly handle any problem you may encounter. Whether you have a worn drive gear, a faulty circuit board or a dented trolley carriage, our technicians can solve your problem.
Installing New Units
Many of our customers decide to replace their existing opener with a new unit. This is an excellent decision in many cases, since modern units are faster, quieter and more reliable than older ones. We work closely with top brands like Chamberlain, Craftsman and Linear to provide you with the best the market has to offer, so you can easily find the right system for your home by consulting with our experts.
Choosing Your New Opener
Picking out a new motor unit can be difficult - there are a lot of choices to make, and few homeowners are familiar with the technological advancements garage door openers have made over the years. Our experts are more than familiar with it, though, and we will be happy to offer you guidance at every step of the way. We'll ensure you end up with the right system for your garage, whether it's a silent belt drive unit, a powerful chain drive opener or a low-maintenance screw drive model.
Get In Touch With Us Today
Don't put up with an opener you can't rely on - get it repaired, or invest in a new model that guarantees better performance and reliability, not to mention improved home security. Contact Garage Door Repair Hercules today to set up an appointment with our team.
In addition, we offer:
Opener Clicker Repair
New Garage Door Installation
Extension Spring Adjustment
Garage Door Tune Up Services