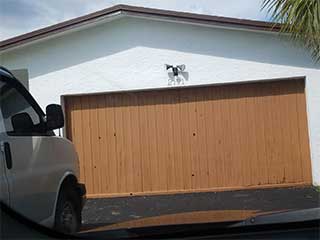 Every homeowner should do odd maintenance tasks every now and then. However, professionals will not only maintain your garage door, but will also fix the tiniest issues they come across, thus saving you money.
Let Us Have a Look
The state of the components can, more often than not, be determined by a trained eye and direct observation of the system. Sagging or frayed components, loosened parts, rusty patches and visible gaps - each of these speaks volumes to our technicians. If we do find an issue, we will know how to go about fixing. We will also nip any existing problems in the bud, before they can cause further damage to the system!
We'll Adjust Spring Tension
Even if you are an experienced DIYer, we strongly advise against tampering with garage door springs. These components are under constant tension and the slightest mistake on your part can lead to damage, injury and even death! We have the experience and knowledge, as well as proper tools, to make any necessary adjustments so that your door is well balanced and can fully open and close.
Proper Lubrication Can Prevent Corrosion
Keeping rust off can easily be achieved with preventative maintenance. This is where lubrication plays a very important role. An added bonus is that metal components, when adequately lubricated, will become a lot quieter! Don't worry, we use only high quality products and apply just the proper amount (FYI, too much lubricant can make the door unbalanced!).
Make your life easier - give us a call and let us do what we do best. Rest assured that we'll give your door all the attention it deserves and make sure it is safe for use.
You can also count on us for:

Track Alignment & Repair

New Opener Remote Controls

Garage Door Cable Replacement

Garage Door Opener Maintenance